Private Yoga Teacher Reviews | Donna Van Wyk | Desert Breeze Yoga
Reviews of Donna Van Wyk at Desert Breeze Yoga, Phoenix AZ. Best in-home Phoenix Yoga Instructor. Certified and experienced. Private yoga classes for beginners to advanced. Yoga for pain and stress, fitness and wellness.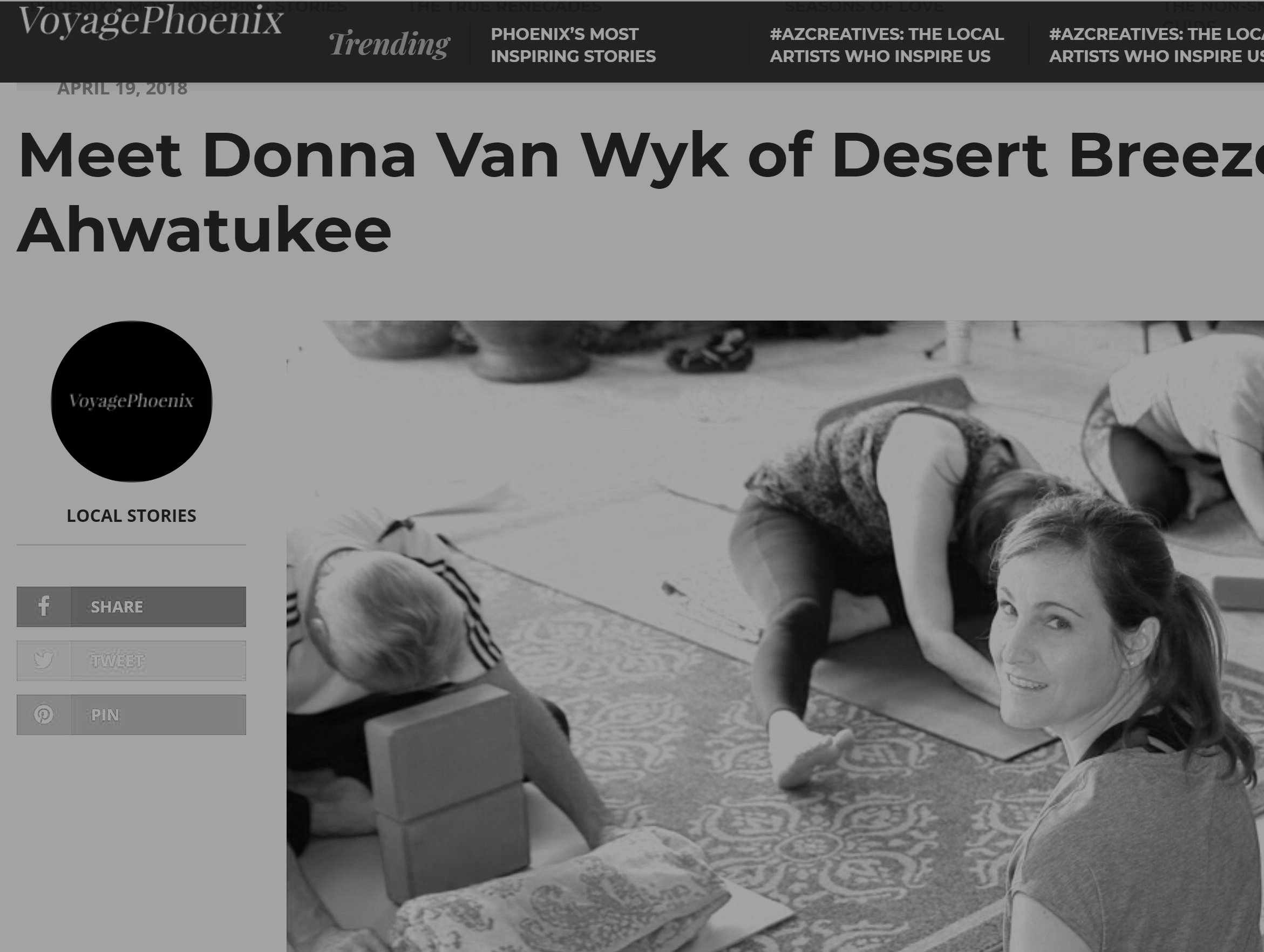 Media: Interview with Voyage Phoenix
Find out about my yoga journey!
Review Previews:
"Donna is a wonderful Yoga instructor. Her classes are challenging but fun as she lends her abundant sense of humor and buoyancy to the instruction. She summons from me the best version of myself with encouragement, gentle hand-on correction, and serenity. I always come away feeling better and often times entertained. Highly recommend Donna! " - Marianne B. (Chandler, AZ)


"Donna is amazing! I am not the most experienced at yoga and Donna always provides me with modifications and advice. She is extremely friendly and professional." - Kristine P. (Phoenix, AZ)
"Donna works extremely well with my pace. I have no yoga experience and I have back pain but she is very patient and clear. She is very calm and relaxed which is important for a yoga instructor. Although I have been doing yoga for only a month I already see good results. I am very happy to have Donna as a yoga instructor." - Srigayatri N. (Gilbert AZ)
"She is amazing. Donna has a great way in meeting you where you are physically and increasing flexibility and range of motion in the same class. She is amazing to help with disabilities too." - Kay Luzaich (Gilbert, AZ)


"I have been working with Donna for the last six months. She is the consummate professional that pays very close attention to the student to ensure that they get the most from the experience. With yoga I have learned that form is everything and her attention to detail with respect to the students form is impressive. She doesn't miss a thing. She is very punctual and her demeanor is very pleasant. Before yoga I had issues with lower back pain and working with Donna has immensely improved my situation. I highly recommend her to anyone who is serious about improving their overall flexibility for health or jump starting their experience with yoga. You won't be disappointed." - John P. (Chandler AZ)
"I love my yoga lessons with Donna ! I have been doing 2 times a week and look forward to each week. Donna is very knowledgeable and is great at what she does!" - Marni N. (Chandler AZ)
"Very happy with my yoga lesson. On time, reasonably priced, very patient with me as a beginner." - John D. (Chandler AZ)

"I've taken Donna's yoga and barre classes. She's a fantastic teacher! Her peaceful demeanor creates a perfect safe space for the practice of yoga, and her barre classes are a killer workout! She's an amazing teacher in large and small classes, as well as one-on-one. Go take her classes!" - Eve H. (Scottsdale AZ)
Donna is a great, thorough instructor. She asked me questions about my goals and exercise history before I began private classes with her, then she created classes that improved by strength and flexibility. She also accommodated well for my lower back pain - being careful not to do anything that could make it worse." - Alex M. (Tempe AZ)
"Had a great experience! Donna's great at working with your limits and helps target trouble areas. she helped me touch my toes which I've never done before through breathing and teaching me how to position myself correctly in order to lengthen my spine! super affordable and works with your schedule. :) " - Matthew C. (Scottsdale, AZ)
"Donna is a gifted yoga instructor! Her flow and ballet-like moves inspire me to go further in my poses. Her music and knowledge are extraordinary. I can accomplish more through her instruction than I can without her! She is quite athletic and I find her classes challenging but fulfilling as well. I have been practicing yoga for sixteen years. Highly recommend!" - Julie S. (Tempe, AZ)
"Donna is an excellent instructor. She will set the tone and intention of your class based on what you hope to accomplish that day. She knows how to listen to her clients while encouraging you to reach your physical potential for that session. She is competitively priced to make yoga in your home a viable option, especially for those of us who are unable to attend pre-scheduled group classes." - Lisa V. (Gilbert, AZ)